The weather forecast team has predicted heavy rainfall in Mumbai. Along with the Covid, the rainfall has seemed to cause havoc everywhere too. Amidst these bigger world problem, one thing that gets impacted during this weather is my haircare. Whether your hair is oily, dry or frizzy, monsoon impact everyone's hair. I have never followed any exquisite instruction for hair care except for oiling, hair masks and washing them.
Did you know that besides, oiling, masks, washing your hair and your diet, there are other things involved in hair care too? Every changing weather not only impacts your mood and skin, it impacts your hair too. For centuries we have been reminded about the benefits of oiling our hair. However, based on our weather conditions, how long you keep that oil on for also matters!!
Experiencing post-partum hair fall is common. It becomes a thing for constant worry, when the hair fall doesn't seem to cease even after six years of post-partum. I have taken medicines, made changes to my diet (read inconsistent changes) and finally succumbed to the habit of practicing good hair care. You need to make internal (read diet) and external ( read application of products) changes for good hair health. Here are some tried, tested and researched ways of hair care that are to benefit everyone.
Oiling your hair
Your hair could get naturally oily however your hair does need moisturisation too. Different oils like almond, coconut and argan tend to moisturize your hair better than other oils. You can warm it a little before applying. During monsoons you just need to leave on the oil for maximum 2 hours and then wash them off. You can even prepare this hair oil at home which is made with the goodness of curry leaves and onion. Curry leaves are known to have beta-carotene, proteins and other essentials that help ease hair loss Additionally they contain anti-oxidants and amino acids too. . A tip that my mother in law follows is, much on a few raw curry leaves every day!
Hair Masks
We all know that the humidity of the monsoon weather impacts our hair and hair care routines too. Problems like frizzy hair and dandruff are on the rise during the rainy season.Masking your hair once a week helps in maintaining good hair health! Always remember to pat dry your hair every time your hair gets wet in the rain. Ensure you wash your hair regularly to keep your scalp dirt free. Rain water tends to have bacteria and other unwanted particles. Always use conditioner for your hair. People with colored hair should wet their hair slightly and apply some conditioner, in case they plan on stepping out in the rain. You can use these hair masks for some TLC and hair care.
Wrap up you hair for better care
It is always advisable to tie your hair up or keep them covered when you step out in the rain. This makes sure that is there is minimal moisture reaching the hair. I usually try and keep my head covered whenever I am stepping out. Whilst I am at home during this quarantine, I let my hair dry naturally instead of exposing it to any heat.
Diet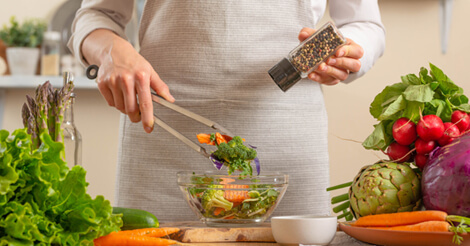 It constitutes a major part of your being. Right from health, to skin, to feeling good to hair care! Diet is the master of everything. Make sure you include adequate fruits and vegetables in your diet. I am definitely tempted and drawn towards the junk, thanks to the weather. However, I try and limit it and also make sure to exercise. Ensure you drink at least 8 to 10 glasses of water every day. Monsoon is the season to eat all the vegetables you dislike. So, for good hair care and health, it's time to eat, lauki, karela, tinda, parwal etc. I love to include seasonal fruits like apple, plums, cherries in my diet too. Besides, having a child who loves these fruits, is a win-win situation for us.
Check for deficiencies
If you have a medical deficiency, you loose hair too. It is best to take medical advice and guidance to cure the deficiency. Studies say that a deficiency of Vitamin D, Vitamin B12, Vitamin B7 tend to cause hair fall. Look at obtaining these vitamins through natural food sources too.
While, we all enjoy the melancholy of monsoon, we definitely do not want rains to be spoilsport. Considering, we are all in a lock down, we can use this time to focus on hair care and our health too. Trying these simple and easy to do things is not difficult either. These doable things definitely ensure good hair health.